Floor Matting
HOT OFF THE PRESS
Caravan and Motorhome On Tour Magazine has run an outdoor camp matting comparison of six popular brands to reveal which is the best.
Coast Multi-Purpose Floor Matting has been praised as The Best Value For Money. Scoring full marks for comfort and grip, Coast Floor Matting topped the charts in more categories than any other product.
So you pull up your Caravan, Motorhome, 5th Wheeler, CamperTrailer, PopTop or Campervan and decide to stay awhile or you simply want to set your annexe up for extra space or privacy and you want something to cover the concrete slab or cover the ground outside your awning. Floor matting is soft under foot which is great for concrete slabs but also has enough air holes as to not kill any grass when camped at camp sites (plus most camp sites will not let you put any ground sheets down that may kill the grass).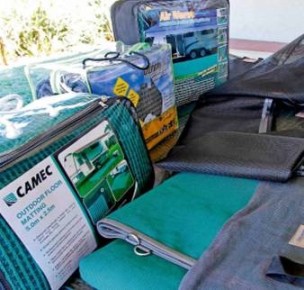 To find out more about each type of Floor Matting click on the following Caravan Floor Matting sub categories;